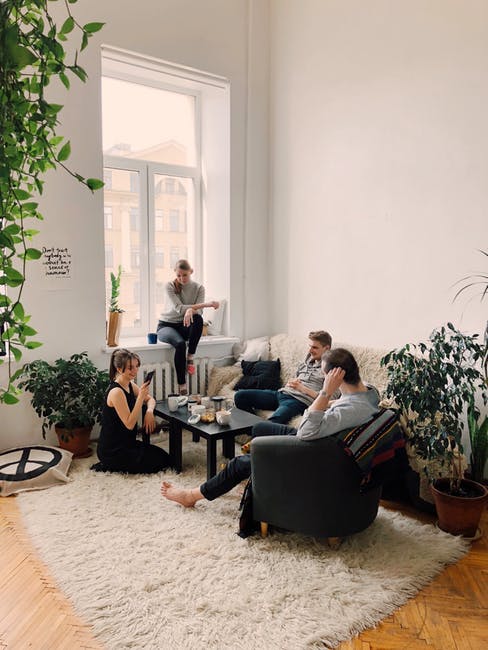 During the winter season it's comforting to walk into your home and feel the warmth and inviting energy of a cozy home. Below, we will share some cost-effective ways to make your home as enjoyable and memorable but beware…you and your guests may never want to leave!

1. Your entry way and front door should set the tone!
Just like first impressions, the appearance of your front door and entryway should be inviting, clean, and bright (while still being authentic to your personal tastes). The draw to the Earth is a shared interest with a lot of people, so make your entryway inviting by putting a plant by the front door, getting an eyeful of life at the door is a welcoming sight.

2. Designs and color draw people in!
What is the first view of your home when you walk in? Keep that in mind when decorating for a cozy space. Draw your guests into your space with a bold accent color on the wall farthest from the entryway and/or adding an interesting piece. Capturing attention brings people in and makes them feel like they want to stay a while and explore your space.

3. Ease of Access!
Make navigating through your home and around your furniture a no-brainer. You probably don't mind moving a chair or side table out of your way but your guests won't feel comfortable when you start rearranging your home in front of them and they won't feel welcome in a place that is not easily traversed. If you have a small home or apartment be extra cautious of this—the idea is to move seamlessly from one space in your home to another, comfortably; don't try to crowd oversized furniture into a small space and try to avoid setting land mines by putting so many floor pillows on the ground.

4. Go Overboard!
Yes, it's contradictory to the last point, but do go overboard with big, leafy vibrant plants. Plants bring life into a space and make it feel welcoming. Use plants that will work with your environment which includes allergies, pets and children as well as your schedule. Don't bring in life that requires more attention than you can give!

5. Fuzzy, fluffy, plush!
Extremely effective are the extensive use of pillows, blankets and plush rugs used with soft ottomans, benches, and framed textiles on walls. Softening the feel of your home will create an inviting space. Included in this is the use of hard lines in your space—lots of straight, harsh lines can look and feel unpleasant incorporating round rugs can help to alleviate rigidness.

6. Be Unique!
Get creative and customize one or two pieces so they reflect YOU! After all, your guests are visiting to see you, not the home but having a welcoming space helps—having creative and unique pieces that reflect you is a great way to cultivate the cozy vibes. Details are important too, even the tiny ones. These details like special knobs on dressers and other furniture help to make a space feel full and sophisticated.

9. De-clutter!
While having an abundance of plush and fluff is great, stacks of bills, mail and other papers is an eyesore. Create a special place in the home for these types of things and keep it organized—these towers of papers are stressful to see and at least tuck these stacks away before guests arrive.

10. Five Senses
Our senses are all connected and the most reflective is the sense of smell. Ever walk into a home and smell brownies baking and remember the times you and your grandma would bake during the holidays? Having good scents floating in the air makes a home that much more welcoming. If you're unsure of how your space smells, take a mini-vacation from your home for a day and when you return, make a note to identify how your space smells and go from there! "