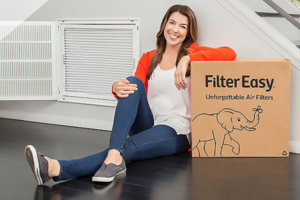 What is FilterEasy and why we, Ultimate Property Management, switched to this program for ALL of our managed rentals:
First, we want to share that we are recognizing and anticipating the shifting needs of the rental market. The trends continue to look promising for investors who want rental income. As more millennials enter the market saddled with student debt, they seek the simplicity that comes with rental living over homeownership. Another key trend is renters of all ages are seeking "done-for-you" services that deliver convenience so they can focus on the things they truly care about.
For that reason, fewer and fewer residents each year have been changing their air filters reliably on their own. This has always been a problem for landlords, and HVAC continues to be the largest annual line item expense for even the most seasoned property managers. We found from HVAC professionals, utility companies, and Department of Energy studies that simply changing air filters regularly saves up to 15% on heating and cooling bills, and HVAC issues can be reduced by up to 40%. Big doors swing on small hinges they say, and failing to change filters is one of those small steps that has dramatic outcomes.
We've tried many different ways to motivate and educate our residents on the importance of this, but with only incremental improvements. It is still the minority who will go to the store, buy the proper filter quality and size, and remember to change them on schedule.We appreciate our tenants that have been taking the appropriate steps to take care of their HVAC systems in the past, however, we are confident that the Filter Easy Program will save our residents time and money while providing them high quality filters.
We have found the reasons why our residents do not change their air filters are due to:
-40% of residents can't find their odd filter size at their local store
-Many rental residents have never changed air filters before
-Some just don't feel motivated to do it
-And above all, air filters are "out of sight, out of mind" and thus… forgotten.
We have now figured out a smart solution that solves all of these problems while saving our residents money!
In speaking with FilterEasy, the #1 air filter subscription company in the world, we were able to structure a solution uniquely designed to dramatically increase our rental resident compliance while saving them energy costs.
In summary…
-Exact quantity and size of filters required for a single change are delivered to the front door.
-Package includes personalized message with instructions on how to change filters.
-Filters are delivered on schedule as a timely physical reminder to change them.
The most important breakthrough we found, is that the filters arriving on our residents' doorsteps are the trigger to change the air filters on time, so remembering is no longer part of the equation. In addition to the in-hand reminder, we also send out email notifications to our tenants the day the filter gets shipped out. In this email reminder, there is a tracking number so our residents can see where the shipment is in real time.
We negotiated a bulk cost, and will save our residents time going to the store, hundreds in utility and procurement costs, and of course ensure a healthy home environment.
The benefits this provides to our homeowners, the next couple years alone, can be in the hundreds or even thousands. There will still be occasional problems due to system age and normal wear, but we now get to see the frustration and cost of preventable problems disappear.
It is our pleasure to announce this exciting new service enhancement, and it is our privilege to continue to work in ways that deliver the best returns possible on homeowners' investments, while assisting our residents by providing them with QUALITY filters and saving them money!